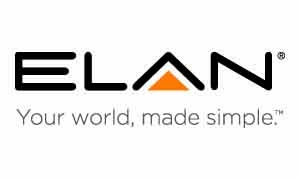 The ELAN IP Audio is truely the lastest in multi room audio technology. You start off with the main chassis which is the EL-IPD-MTX-8CH which has 4 stereo or 8 mono analogue inputs via RCA and it has 2 digital inputs via either RCA or TOS. 
It has 4 stereo or 8 mono powered speaker level outputs at 80W at 8Ω, 100W at 4Ω and 2 stereo or 4 mono analogue RCA line level outputs. 
it is very flexible in being able to set all inputs and outputs as either stereo or mono making this a very versatile platform. Consider a dining room that has 2 x 8Ω speakers. This zone could be run off a single speaker level output set to Mono as stereo seperating in a dining room is often not desirable. 
The system needs an ELAN controller such as an SC100 and is all configured via the ELAN configurator. It is controlled via the free ELAN app and/or ELAN touchscreens and/or ELAN hand held remotes. 
If this single chassis solution is not large enopugh for the application then the majic of the IP audio system really comes into play. The Dante IP audio card can be added to the main chassis and then extender amps and additional pre amp input chassis can be added. These extenders do not seen to be in the same rack as the main chassis as they can be anywhere on the wired IP network. All sources are available from all zones maing this the most flexible and scalable audio solution available today. 
We even have a small single input box that can be placed anywhere on the wired IP network allowing a source to be added to the system anywhere you have a wired IP connection. This is great for adding TV audio or computer audio or even a turntable that is on display in the living room. 
You might not be an ELAN installer but consider this solution as a stand alone audio platform and only use the extra control capabilities of ELAN if you need to.