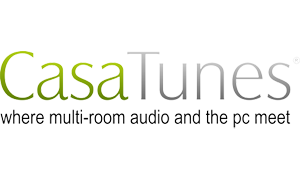 The CasaTunes Multi Room Audio solution is an ideal solution for a fully self contained solution. Start by choosing how many independant streams of audio you require. Think about how many people will live in the property and have a stream per person. The C-2 provides 2 independant streams, the CT-3 provides 3 streams and the CT-5 provides 5 independant streams. That way each member of the household can have their own independant stream of audio. Then add the CT-6x6MA multi room amp. Each unit has 6 stereo speaker outputs and you can have up to 6 units allowing 36 stereo zones. 
The server connects to the multi room amp using the supplied RS-232 cable. Additional amps connect to the main amp via a supplied ribbon cable. 
The CT-6x6MA comes with 6 keypads that can be put in each zone if required or they can be ignored and simply use the app. 
The server is the brain of the system and provides an easy to use app which will auto discover the server. No need for static IPs. 
Each zone can be named and each stream can be named. You would typically name the zones by room name and you might name the streams by the name of the person they belong to avoid any conflict.
The you can enter your streaming services credentials into the server for Spotify, Deezer, Tidal and TuneIn Radio to enjoy your preferred streaming service. You can also catalogue music off a NAS or USB drive and the CT-3 and CT-5 have their own built in hard drive.